Zabbix 6.4 is here
The new version of Zabbix 6.4 introduces a number of interesting new features.
New menu layout
The new version introduces an updated menu layout with the following changes:
Dashboards got their own separate item
There is a new Alerts menu, which brings together everything about alerting, including all types of actions (TriggerActions, ServiceActions, etc.)
A new Users menu has also been added containing everything about user management, such as User groups, User roles, Users, API tokens and Authentication
The latest addition is the new Data collection menu, which replaces the previous Configuration menu and contains subsections related to data collection configuration.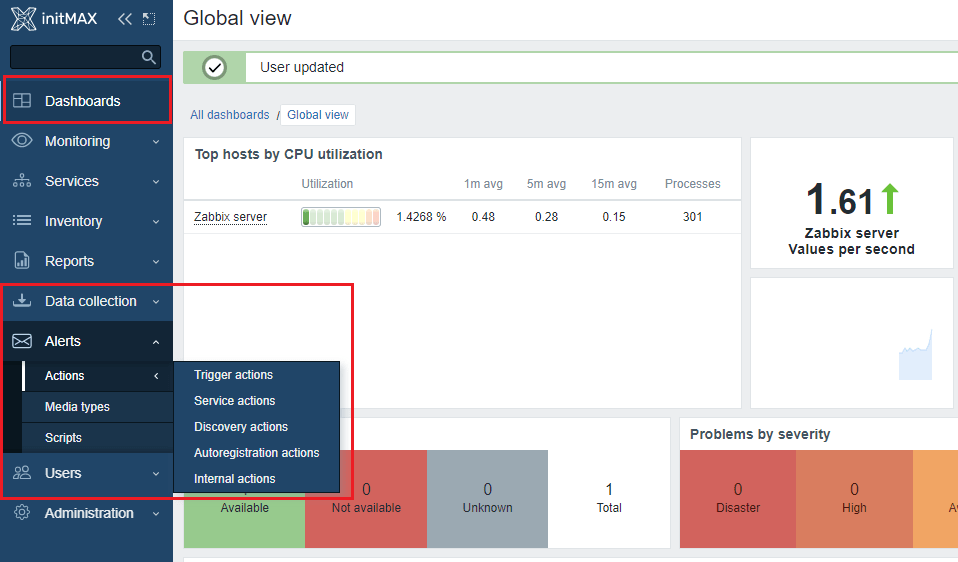 Improved context menus
The context menus for items, hosts and events have been greatly improved.
The host context menu now offers options to switch to a list of items, triggers, discovery rules or web scenarios.
In the context menu for Item, you can now:
view and click on triggers linked to the item
create a trigger, dependent item or discovery rule linked to the selected item
click on the Latest data of the selected item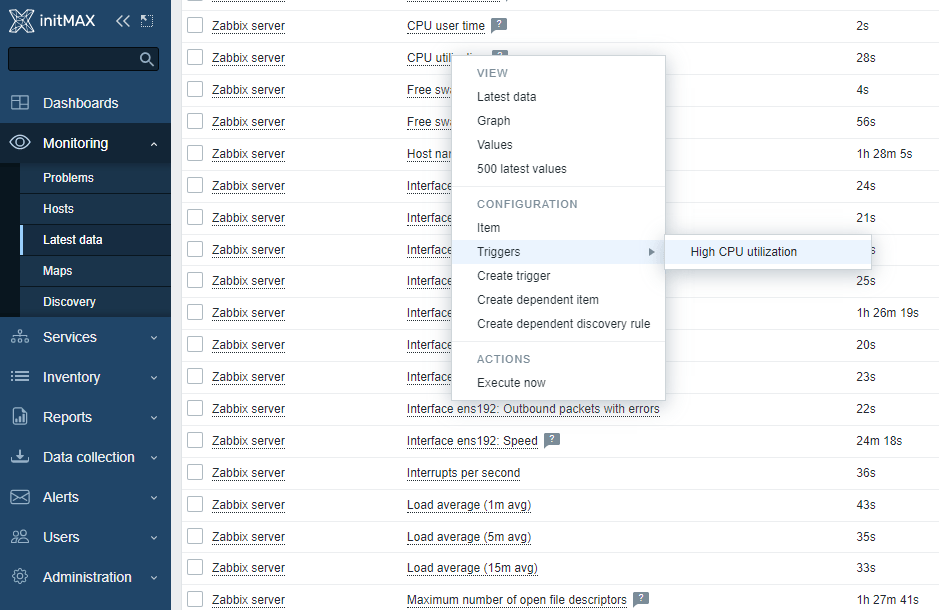 And finally, the event context menu now offers the option to:
confirm or update the problem
view all items used by the problem trigger and go to the configuration of any of them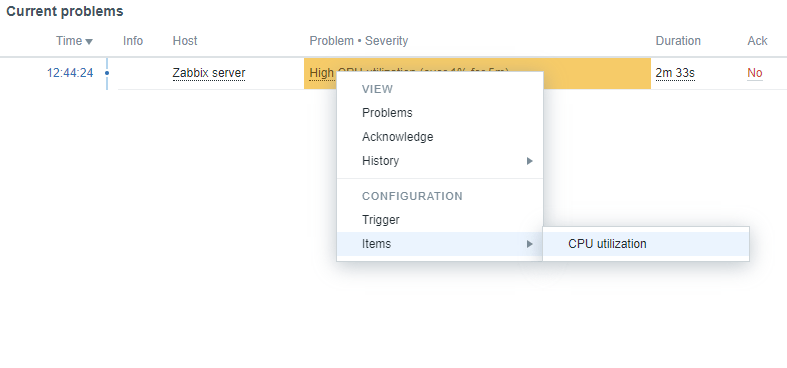 Automated account creation from LDAP and SAML
The ability to automatically create users has been a long-awaited and desired innovation. Since Zabbix 6.4, it is now possible to manage users and their permissions, including mapping to groups, via AD, LDAP or SAML.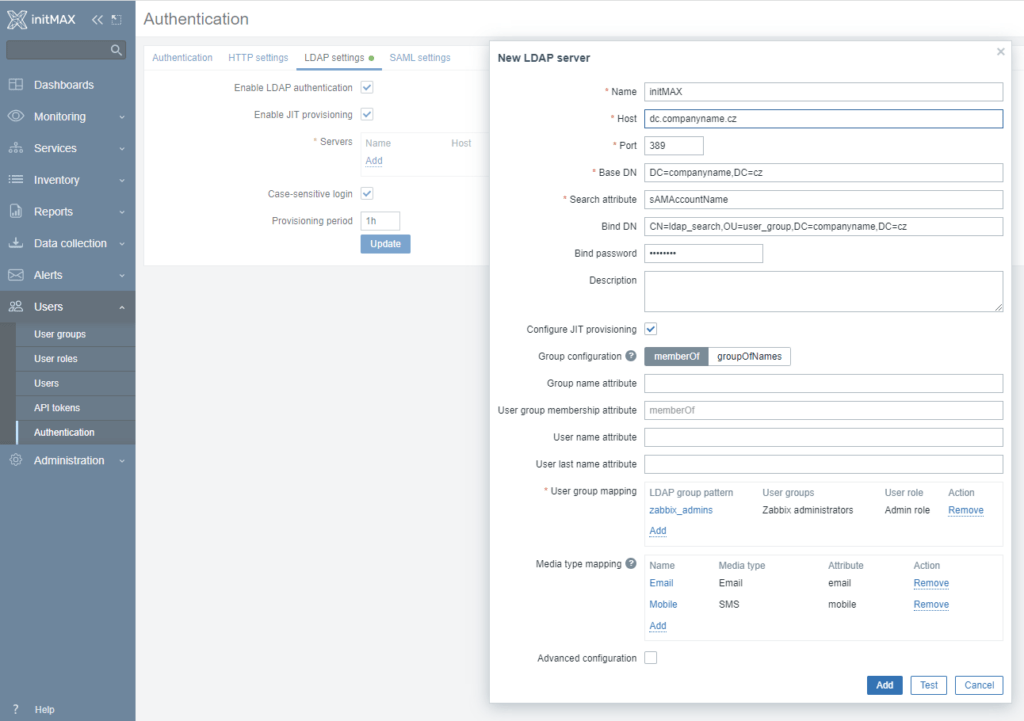 Easier media type configuration for Gmail and Office365
Gmail or Office365 users can now benefit from easier media type configuration. The new Email provider field in the mail media type configuration allows you to select pre-configured options for Gmail and Office 365 (in addition to the "Generic SMTP" option which works the same as before).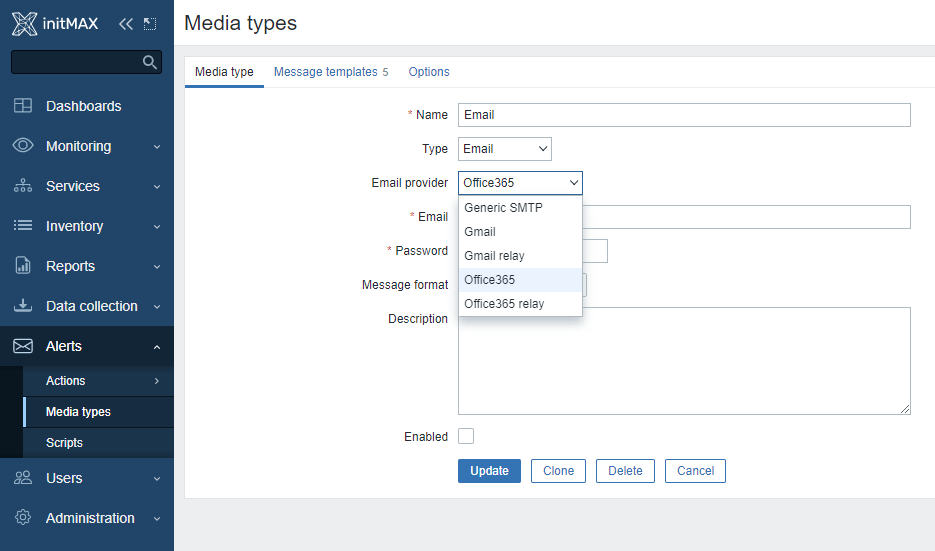 If you select O365 or Gmail, only an e-mail address and password are now required. Zabbix will automatically fill in all required settings for these media types with the current/recommended values, i.e. SMTP server, SMTP server port, SMTP password and connection security.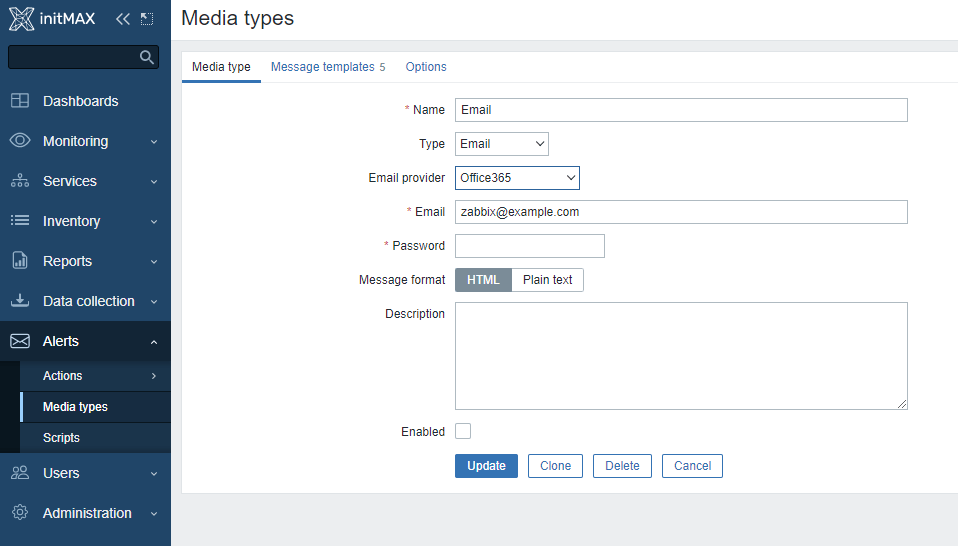 Dynamic background colour for Item Value widget
The Item Value widget now allows you to configure a dynamic background colour based on set thresholds and the last received value.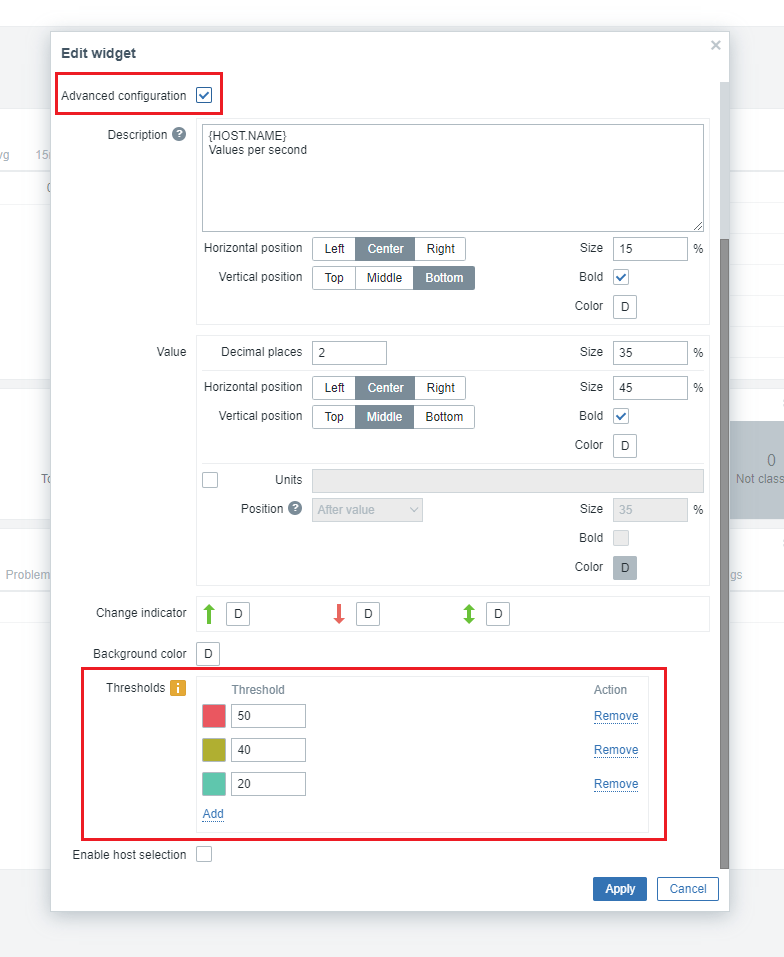 Mandatory old password entry when changing password
When changing password, you will now be required to enter the original password.
SNMP optimization
The part of the SNMP using BULK request has been redesigned. Now Zabbix accesses multiple metrics in the same way as a standard bulk request. This change solves, for example, problems when using proxy and SNMP Discovery, when Zabbix was not able to report all data or when Zabbix displayed the message: "SNMP error: noCreation (That table does not support row creation or that object can not ever be created)".

New snmp.walk item
Since Zabbix 6.4, there has been a new snmp.walk[] item which returns a multi-line list of values.
For example, snmp.walk[1.3.6.1.2.1.2.2.1.2,1.3.6.1.2.1.2.2.1.3] will return:
New preprocessing options
In connection with the changes in SNMP, two new, very useful preprocessing options have been added:
SNMP walk value – Selects a value by the specified OID/MIB name and applies the selected formatting to it.
SNMP walk to JSON – Converts SNMP to JSON format.
New templates
AWS RDS instance by HTTP
AWS S3 bucket by HTTP
Azure by HTTP
OPNsense by SNMP
Zabbix download and other useful links
---
As official partners and big fans of the Zabbix platform, we can provide you with the highest level of service in all areas of Zabbix monitoring. If you are interested in a live demonstration of Zabbix installations at our customers, we will be happy to show you Zabbix in practice.