Zabbix version 7.0 LTS is almost here
New version of Zabbix 7.0 LTS brings a number of interesting innovations.
New widgets
Gauge widget – This widget allows you to display the measured value on a scale with accurate visualization, similar to a clock. This enables quick and easy evaluation of the status of monitored metrics or indicators. The Gauge widget is ideal for displaying measurements such as temperature, humidity, data transmission rate or any other numeric indicator. A wide range of configuration options are available.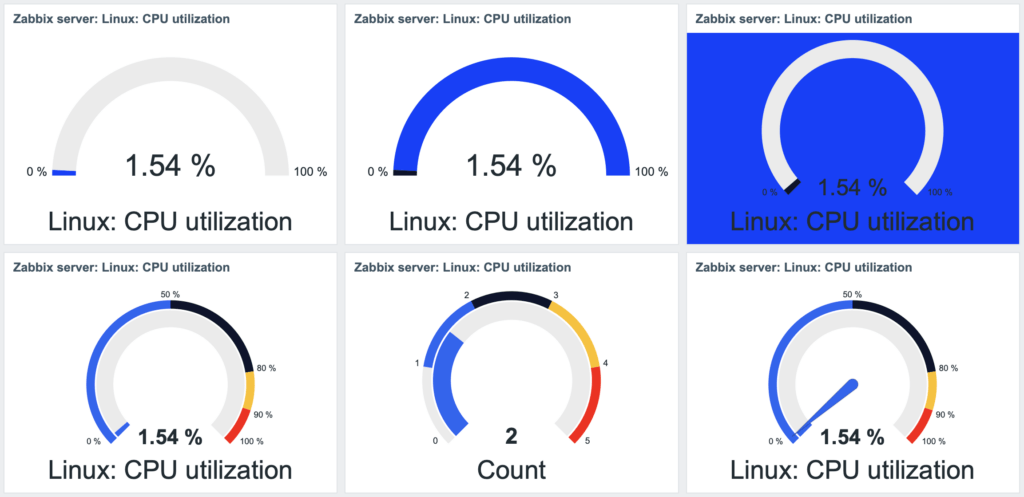 Pie widget – This widget in Zabbix offers various options for visualizing data using two basic types of pie charts: Pie and Donut.
The Pie chart is a classic representation of the proportion of individual elements within a specific dataset. Each element is depicted as a slice of the pie, with the size of the slice relative to its value or percentage compared to the other elements.
The Donut chart is a variation of the pie chart that adds empty space in the center, creating a "donut" effect. This visualization allows for displaying additional information or labels in the center of the chart, which can provide further details or context.
With these two visualizations, Zabbix users can easily visualize data using pie charts and gain an overview of the proportion of individual elements within their dataset. This way, they can quickly identify trends, distributions, or relationships among the data.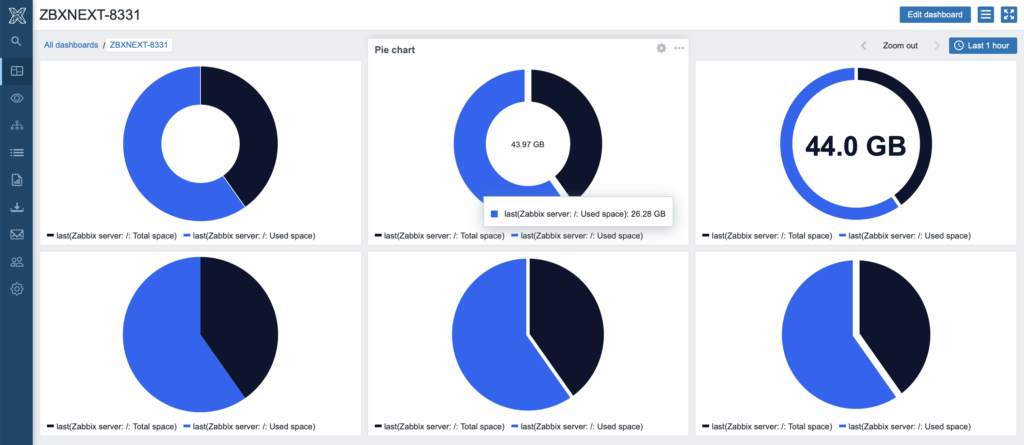 Top Triggers widget – In this widget, you can see the triggers that have most frequently changed their state during the evaluation period, sorted by the number of state changes. You can also filter them by hosts, host groups, tags, problem name and severity. Additionally, there is an option to set the number of displayed rows.

Expanded widget availability in templates
Previously, only the following widgets could be created in templates: Clock, Chart (classic), Chart Prototype, Item Value, Plain Text, URL.
Templates now support creation of all widgets.
Zabbix front-end and Zabbix server versions are now displayed on the System information page

Collapsible advanced configuration
Checkboxes, which until now were used to display advanced configuration, have now been replaced by collapsible blocks. This results in a greatly improved user experience, as collapsing these blocks and saving the configuration no longer resets the configured advanced options to their default values, as was the case when using checkboxes.
Asynchronous pollers
The "agent poller", "http agent pollers" and "snmp poller" processes have been replaced by their new, asynchronous variants and are now capable to perform multiple checks at the same time.
The old versions of these processes were only synchronous, so they could only perform one single action at a time and most of the time was spent by waiting for a response. These new, updated versions of poller processes are now starting an additional parallel process during the phase of waiting for a response. The speed and efficiency of monitoring has therefore undergone a drastic improvement.
These processes can be configured by editing configuration directives "StartHTTPAgentPollers", "StartAgentPollers" and "StartSNMPPollers" respectively.
The number of concurrent checks can be regulated using new directive "MaxConcurrencyCheckPerPoller" and is configurable up to 1000.
Alongside these changes, the builtin cURL function for persistent connections was newly implemented for HTTP checks.
In connection with the implementation of asynchronous SNMP, a function for asynchronous DNS resolving was added at the same time.
Multithreading
Several changes have been made as part of transitioning to a multithreaded architecture:
Added a new configuration parameter: --with-stacksize, which allows to overwrite the default thread stack size used by the system.
User macro resolving has been moved from the preprocessing manager to preprocessing workers.
Ability to run remote commands on active agents
Starting with Zabbix Agent version 7.0, it is now possible to run remote command on an agent running in active mode. As soon as the execution of a remote command is triggered by an action or a manual script run, the command will be included in the active checks configuration and executed once the active agent receives it. Note that legacy active agents will ignore any remote commands included in the active checks configuration.
Concurrency in network discovery
Previously, each network discovery rule was handled by a single process. Thus, all control services within the rule could only be performed sequentially.
In the new version, the network discovery process has been reworked to allow parallel processing of inspection services. A new "discovery manager" process has been added along with a configurable number of "discovery workers".
The default number of StartDiscoverers has been increased from 1 to 5 and the range from 0-250 to 0-1000.
Zabbix Proxy now uses memory buffer
A memory buffer has been developed for the Zabbix proxy used to store new data. This data is forwarded to the Zabbix server without the need to access the database, which again contributes to the increase in overall performance.
For optimized performance of this functionality, it is recommended to turn on the usage of memory buffer on the proxy. This is done by modifying the configuration directive "ProxyBufferMode" from the value "disk" (the hard-set default value for pre-existing installations) to the recommended value "hybrid" or the value "memory".
Furthermore, it is necessary to set the size of this buffer, for which the "ProxyMemoryBufferSize" parameter is used.
If the proxy is stopped, the memory buffer is full, or the data is too old, then the memory buffer in "hybrid" mode protects against data loss by dumping unsent data to the database, and then the proxy reverts to using the memory buffer after all values have been written. In "memory" mode, only the buffer memory will be used and thus performance is potentially higher, but there is no protection against data loss.
Simplified cloning
In the new version of Zabbix 7.0 LTS, the process of cloning guests, templates or maps will be changed. Previously, there were two options for cloning, while now the option of "simple" cloning (Clone) will disappear and this function will be completely replaced by Full clone, with all of its functionality.
Documentation link for each standard item
Each standard item now has a direct link from the front-end to the documentation page.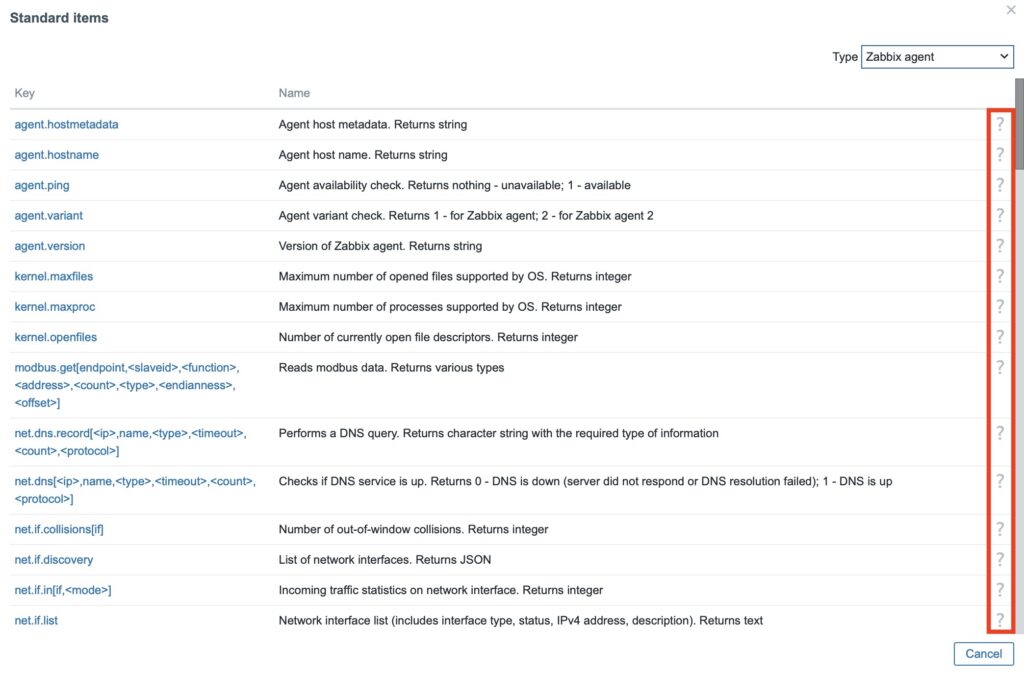 New functions
New functions have been added for use in trigger expressions and calculated items:
jsonpath() – returns the JSONPath result
xmlxpath() – returns the XML XPath result
Updated functions
Several functions have been updated:
Aggregation functions now also support non-numeric types for calculation. This can be useful, for example, with the count and count_foreach functions.
The count and count_foreach aggregation functions support optional operator and pattern parameters that can be used to fine-tune item filtering and count only values that match the given criteria.
All foreach functions now no longer include unsupported items in the calculation.
The last_foreach function, previously set to ignore the time period argument, now accepts it as an optional parameter.
Auditlog converted to hypertable in TimescaleDB
On new installations, the auditlog table has been converted to a hypertable in TimescaleDB to take advantage of better performance as well as automatic partitioning on time (7 days by default).
To successfully update existing installations, you must re-run the timescaledb.sql script located in the database/postgresql path before starting the Zabbix server.
If the Zabbix server is started for the first time without running this script first, then a warning message will pop up.
Increased character limit
The character limit for all URL fields is now 2048 characters, and the character limit for all User/Username and Password authentication fields is increased to 255 characters.
Support for the old numeric type has been dropped
The old style of decimal numbers, previously marked as deprecated, are no longer supported because numeric values of extended range are now used (Float64).
Oracle RDBMS deprecated
The support for Oracle as a back-end database has been deprecated and is expected to be completely removed in future versions.
New templates
AWS ECS
AWS Cost Explorer
OpenStack Nova
Cisco SD-WAN
PostgreSQL by ODBC
Acronis Cyber Protect Cloud
MantisBT
HashiCorp Nomad
Zabbix download and other useful links
---
As official partners and big fans of the Zabbix platform, we are able to provide you with services from all areas of Zabbix monitoring at the highest level. If you would be interested in a live demonstration of Zabbix installations at our customers, we will be happy to show you Zabbix in practice.